Info: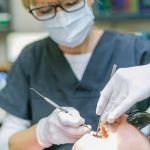 If you want your teeth to last throughout your life, it is important that you take care of them. Just like anything else, you need to maintain your teeth and have regular checkups to ensure they are healthy and you do not have any gum disease.
Dental cleanings are part of routine dental care. Some patients need to see th edental hygienist more frequently throughout the year depending on their dental needs. At Downtown Dental we offer hygiene and scaling services as part of regular dental care.
Read On
Schedule Your Dental Cleaning
You never want to miss your dental cleanings as they are important and prevent dental decay. If you are due for a cleaning or you wish to speak with one of our dentists about the condition of your teeth, please call Downtown Dental Centre today.
Call:
(416) 593 5111
What is a Dental Cleaning?
A dental cleaning involves the process of removing all plaque and tartar that builds up on your teeth. Plaque and tartar form when food particles are allowed to remain on and in between your teeth. Often times, you can determine when there is a buildup of plaque or tartar because your teeth may feel as though they have a film on them.
Continued formation of plaque and tartar can lead to tooth decay and gum disease. One of the most startling things about gum disease is that in its early stages, most patients do not even know that they have it.
A dental cleaning involves the scaling and polishing of your teeth to leave them free from plaque and tartar. If you have an excessive buildup and the plaque extends beyond the gum line, you may need to have a deep cleaning performed.
How is the Cleaning Performed?
Your dental cleaning will be performed by a trained hygienist who will utilize dental tools to clean your teeth. There are several different tools used in the process from a scaler to remove plaque and tartar to the polish cup that spins and makes your teeth shiny.

The first step in the cleaning process is scaling your teeth. This involves the removal of any plaque and tartar that may exist on your teeth. The handheld device is tiny in size and this process may take a little bit of time if you have a lot of build up.
Teeth Polishing & Fluoride
The second step of the process involves the polishing of your teeth. A paste is placed onto a brush with a spinning head and the spinning head rotates around your tooth and polishes it. This process is used to shine your teeth and also remove any stains that may exist on the tooth.
Lastly, your hygienist may apply fluoride to your teeth. This treatment will help protect your teeth , keep them strong and healthy. Some patients worry that their dental cleaning will hurt, but it should not. Sometimes, some patients do feel a mild discomfort if they have gum disease or if there is tooth decay, but speaking with our dentist and hygienist can help you prevent any unexpected sensitivities.
So Convenient / So Close
Working downtown? It might be convenient for you to pop-in on your lunch break!