Info: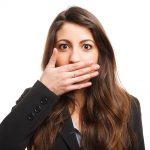 Do you have a problem with bad breath? Have you noticed people shying away from you when you talk or get too close? If so, it is time that you visit Downtown Dental Centre for our fresh breath therapy.
We know that bad breath is not only embarrassing, but it can cause you to avoid social situations altogether and this is no way to live. At Downtown Dental Centre, we specialize in fresh breath therapy that will get rid of your halitosis for good and allow you to feel free in all social atmospheres. We want you to be able to enjoy your time with others and not have to hide behind your hand.

Read On
Schedule Your Consultation
If you are interested in discussing your options for fresher breath, contact Downtown Dental Centre today to schedule your consultation with us.
Call:
(416) 593 5111
What Causes Bad Breath?
If you have bad breath, you are probably wondering what exactly is causing it and why you are experiencing it. One of the most common reasons for bad breath is poor oral hygiene. When you fail to brush or floss your teeth, old food particles remain trapped between your teeth and bacteria begins to feed on it, which results in the foul smell. Poor dental hygiene leads to tooth decay, which also causes bad breath.

Another common reason for bad breath is eating strong odor food such as onions and garlic. What happens is when the food is absorbed into your body, it enters your bloodstream, and is eventually exhaled on your breath.
In addition to the above reasons, bad breath may also be caused by some medical conditions including dry mouth, yeast infections in the mouth, sinus infections, diabetes, acid reflux, and more.
Bad Breath Treatment
If you are suffering from bad breath, we recommend that you come in for a consultation today. While you are here, we will take x-rays of your mouth and teeth and you will have an exam performed to identify the cause.
If it is determined that the cause of bad breath is due to either tooth decay or gum disease, you will undergo the necessary treatment needed.
At Downtown Dental Centre, we offer a comprehensive dental treatment designed to get rid of your bad breath called fresh breath therapy. The first treatment step is to provide treatment for any underlying conditions. The next step includes a thorough cleaning of your teeth and, when needed, a deep cleaning to remove plaque and tartar. The last step includes a consultation on how to maintain your oral hygiene.
Preventative Steps
After you have had our fresh breath therapy performed, we recommend that you take the necessary steps to prevent halitosis from coming back, as it can. You should stop smoking and drink enough water to keep your mouth hydrated throughout the day.
Also, we recommend that you continue to follow up with us to ensure no more problems develop along the way. Lastly, you should always brush and floss your teeth after meals to ensure that food does not remain lodged between your teeth.
So Convenient / So Close
Working downtown? It might be convenient for you to pop-in on your lunch break!