Info: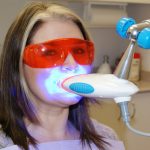 Did you know that sometimes brushing and flossing is just not enough to keep your teeth white and bright? If you are unhappy with the colour of your teeth or your teeth are stained from your lifestyle choices, the dental professionals at Downtown Dental can help.

Read On
Schedule Your Consultation
If you are interested in having your teeth whitened, contact Downtown Dental Centre today to schedule a consultation with one of our dentists. We want you to fall back in love with your smile.
Call:
(416) 593 5111
Teeth Whitening
We specialize in teeth whitening treatments that will lift and break down stains that are present on your teeth. Our specialized formula is guaranteed to have immediate results and complete results will be visible within a few treatments. If you are interested in whitening your teeth, call Downtown Dental Centre today to schedule your appointment with us.

Why Are My Teeth Stained?
Over time, your teeth are bound to change colour and there are many reasons for this. For example, much of what you eat a drink can impact the colour of your teeth – even with regular brushing and flossing. Drinks like coffee, tea and red wine are all known to wear down your teeth and leave them discoloured. Continued consumption of these products will discolour and stain your teeth over time.

Another reason your teeth may be stained and discoloured is from smoking. The nicotine in the cigarettes causes your teeth to turn a yellowish colour. This discolouration will not go away until you quit smoking and whiten your teeth.
If you have had any type of tooth trauma, a single tooth or your teeth may be discoloured due to the dentin of the tooth becoming exposed. You will typically recognise this type of damage because the tooth turns brownish in colour. Lastly, medications, age, and even drinking alcohol can affect the way your teeth look.
Am I a Candidate For Teeth Whitening?
To determine if you are a good candidate for teeth whitening services, you will need to come in for a consultation. At your consultation, one of our dentists will examine your teeth and determine if there are any underlying dental problems. If so, they will need to be addressed prior to the whitening treatment.

Once you have been determined to be a good candidate, we will provide teeth whitening services here in our office. Prior to your treatment, we will take an impression of your teeth and have an aligner made for the whitening treatment.

When treatment begins, you will come into our office and we will place our specialized whitening gel into the tray and you will insert the tray into your mouth. A special light will then be placed over-top, of your teeth to activate the gel. As the gel is activated, it will break down any stains and discolouration on your teeth. Once the treatment is done, you will see noticeable results. The entire length of the treatment will be determined during your consultation and will depend on how stained your teeth are and your desired results.
So Convenient / So Close
Working downtown? It might be convenient for you to pop-in on your lunch break!